Here's how to book Susan for your podcast or live event
What if the workplace was a place where people can heal from their traumatic pasts; build new, positive beliefs about themselves and others; and gain the confidence, self-acceptance, peace of mind and joy that they've been craving all their lives?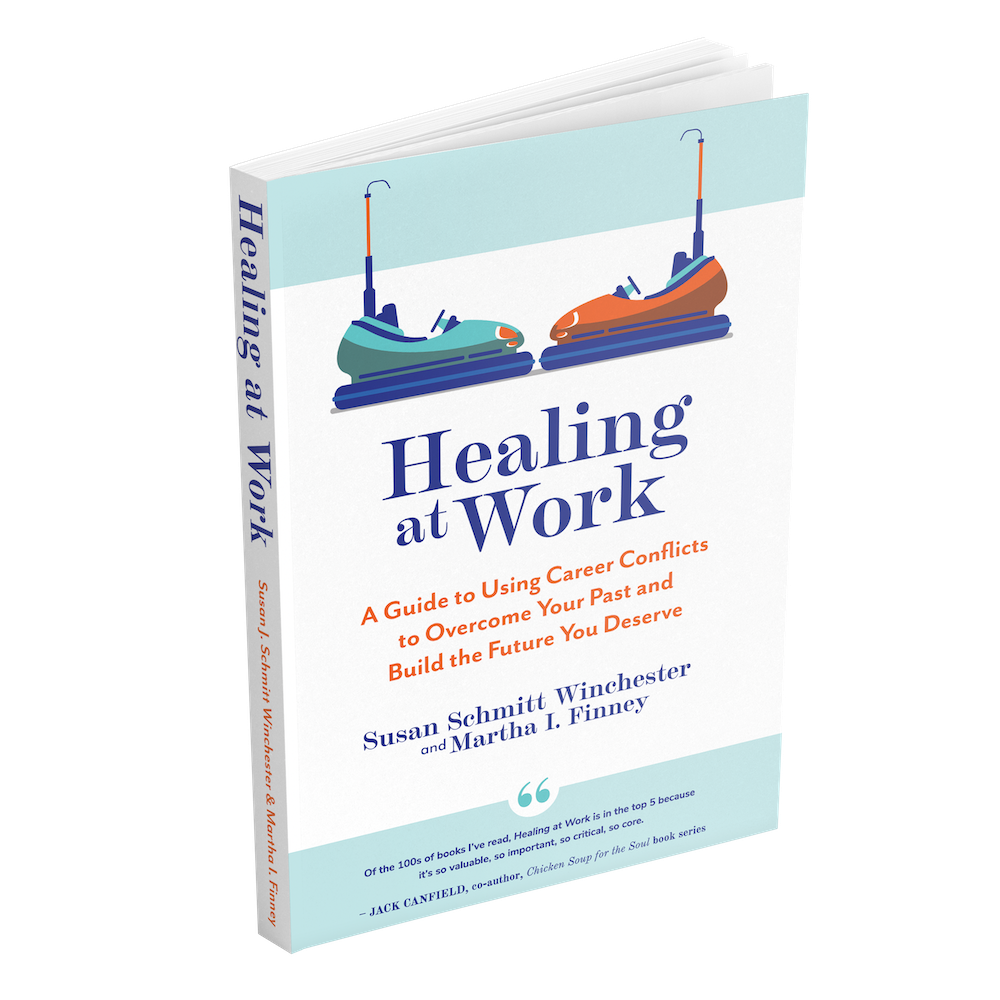 In her book, Healing at Work: A Guide to Using Career Conflicts to Overcome Your Past and Build the Future You Deserve, Susan Schmitt Winchester tells you how to become the confident person you were born to be. She draws from her own personal experiences and the latest research in positive psychology and neuroplasticity to inform and equip readers and audiences with the skills and insights they need to achieve the joyful existence they were meant for all along.
Your Audience Will Learn:
How to jump from the Wounded Career Path to the Healing Career Path

The secret of the ACEs and the damaging limiting self-beliefs they install in children

How "Bumper Car Moments" can strengthen relationships and build trust – even during high-stakes conflicts

How to override automatic, negative self-talk with one simple three-word question

The promises of positive workplace experiences to actually heal the traumatized brain

How self-directed neuroplasticity empowers your listeners to rewire their brains to support their careers and experience of day-to-day life

How to set healthy boundaries at work and overcome their drive for perfectionism and to people-please

The 10 Distorted Thoughts and how they show up at work

How traditional dysfunctional family roles are acted out in the workplace
Some Interview Questions to Get You Started:
What do you mean by "damaged is not doomed" and "the rest of your life is yours?"

Explain PERMA and how it helps people turn their workplace experiences into opportunities to heal.

What does ASDP stand for and why do you focus on ASDPs in your book?

How do ASDPs function differently at work? What are some common characteristics?

Let's say you're a manager who thinks that a direct report is an ASDP. How do you handle that without overstepping privacy concerns?

Why were you drawn to this topic?

How did your own childhood trauma manifest itself at work?

How did your childhood influence your relationships with authority figures?

Really? The workplace is a venue for emotional healing? Explain how that works.

What are Bumper Car Moments?

What is the Rapid Power Reclaim method?